Plates come in many different types and qualities. There's nylon plates and alloy plates, and then one type of aluminum is not the same as the next and how should you know what's better?!?
Most beginner skates come with nylon plates. They are cheap, lightweight and easy to mass produce. So for beginners and recreational skaters that's perfect. And when you are buying your first skates you don't pay much attention to them, and you shouldn't. But for the more demanding derby skater they will not last long and soon they will hold you back.
So how to choose your upgrade? Well…
Contrary to nylon plates, aluminum plates do not flex. Not flexing is a good thing. All the energy you use making a skate do something, is actually used for that and there's no energy lost in the plate flexing. So shopping for a new (and better) plate, always go for metal. It rocks! (Slayyyyyyer!)
Metal plates are mostly made of aluminum, it's a group name for a certain type of metal. Aluminum is usually stiff, brittle and light weight. Still there are a lot of differences, but luckily you don't need to know everything about all of that to make a good choice. Far more important than the type of material is the king pin angle. Oh Job, now you come up with another technical thing I know nothing about! Ok, so let me explain.
The king pin angle divides plates in 3 major groups: stable → 10 degree, agile → 30-45 degree, and 'in the middle'→ 15-20 degree. A higher the number gives more king pin action.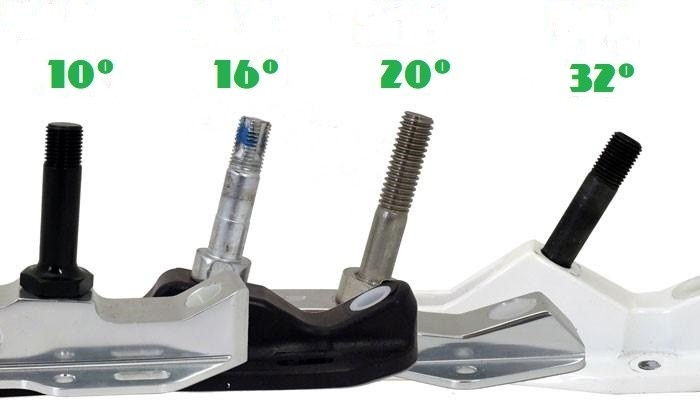 Everybody has their own skating style and preferences. Some people are very stable and "steppy", others are more "twirly" or "quick feet". There is no wrong or right and it also does not really depend on your position. You will have a certain style whether your are jamming or blocking.
So the first question you will ask yourself is: what do I want from my plate?
Do I want it to be very stable? You might need some help in that department or you just really like your skates to be firm and solid. You don't have to worry about keeping it in check but you do have to put a little more effort into making it turn. Or do you want a very agile plate? It will turn like fire, but can sometimes be a little hard to control and just go fast.
Remember, there is no right or wrong! There's preference and not everybody is the same.
Maybe you feel you are more 'in the middle'. You like your stability but also are one to turn quick and move using your edges. This is very common in derby, it's a sport where you need to do all the things, all the time. You step, move lateral, speed up and turn, maybe 5000 times each game! So thinking that you need something that can accommodate all those things is a really good thought, and possibly one of the reasons most derby plates are 'in the middle', 15, 16, 18 or 20 degrees.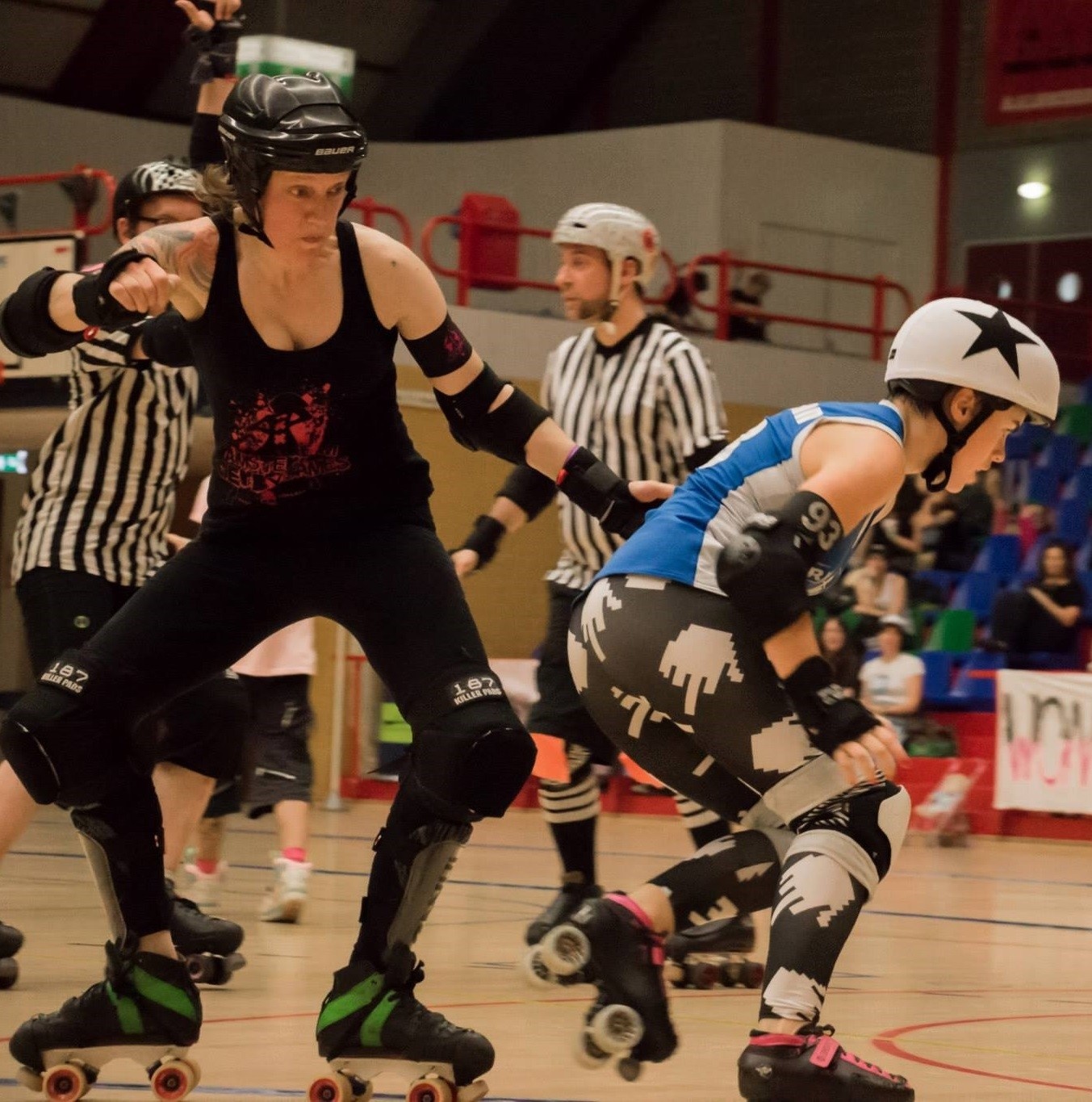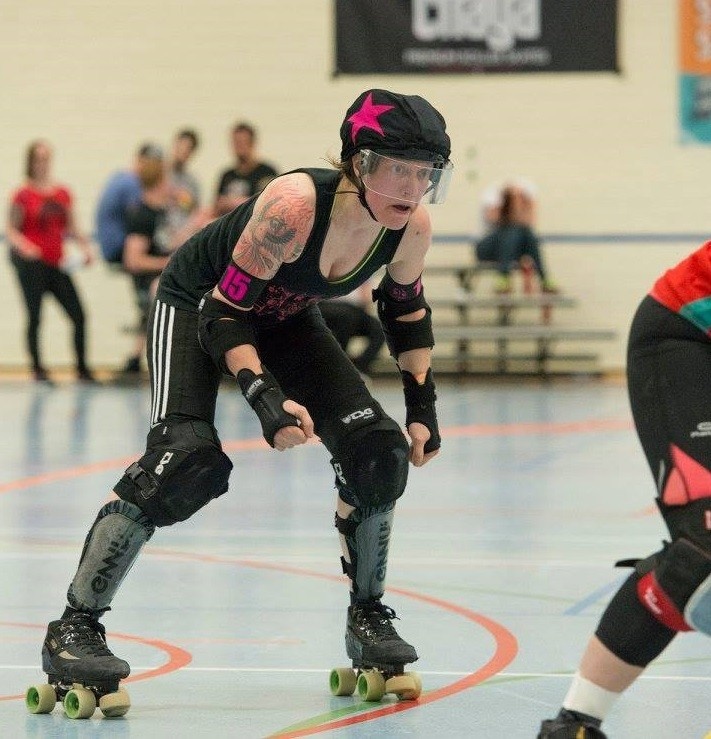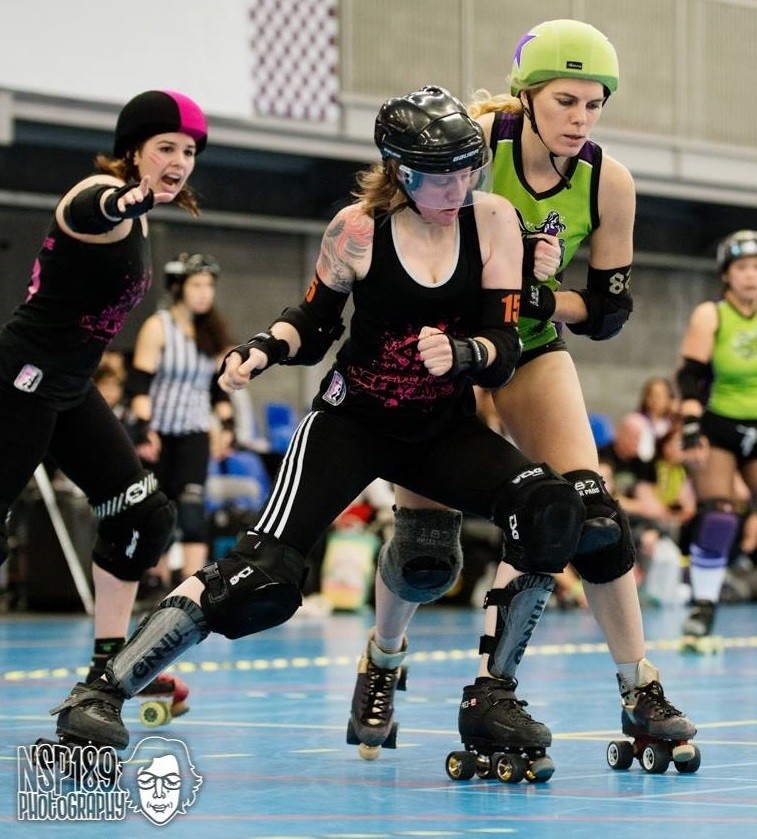 Photo by NSP189
(Contest: what's the same in all three pics?)
Next step is to see what options you have regarding the material in the king pin action you prefer.
A higher grade aluminum (7000 series vs 6000 series) will be more stiff and more light weight just like a magnesium alloy will be vs cast aluminum. Lighter and more stiff will be more costly, it is harder and therefore more expensive to make a material lighter and very stiff, but also make it hold up while your are frolicking and rampaging about on your skates. Just remember you will be enjoying it for a long time, so spending the extra buck here is certainly not lost.
Third thing to look at is the pivot pin. This can be adjustable or non-adjustable. Pivot pins are a personal pet peeve of mine and I will go into that in another blog.
Stay tuned!