Are you looking to buy your very first pair of derby skates? Do you play roller derby and do you want to take it outside? In any case: skating outside is fun, but can you just… do that? The answer is yes! Any skate becomes an outdoor skate if you take it outside. Let us explain!

Outdoor Wheels
Some people like to have an additional pair of skates for outdoor skating. Sometimes they also have another set of protective gear for outdoors, because outdoor skating can damage your gear at a higher rate. But do you need to have two pairs of skates? No, because there are no indoor or outdoor skates, however there are indoor and outdoor wheels. Outdoor wheels are soft and can be a bit more rounded, this helps roll over cracks, twigs and all the other bumpy things you will encounter outside.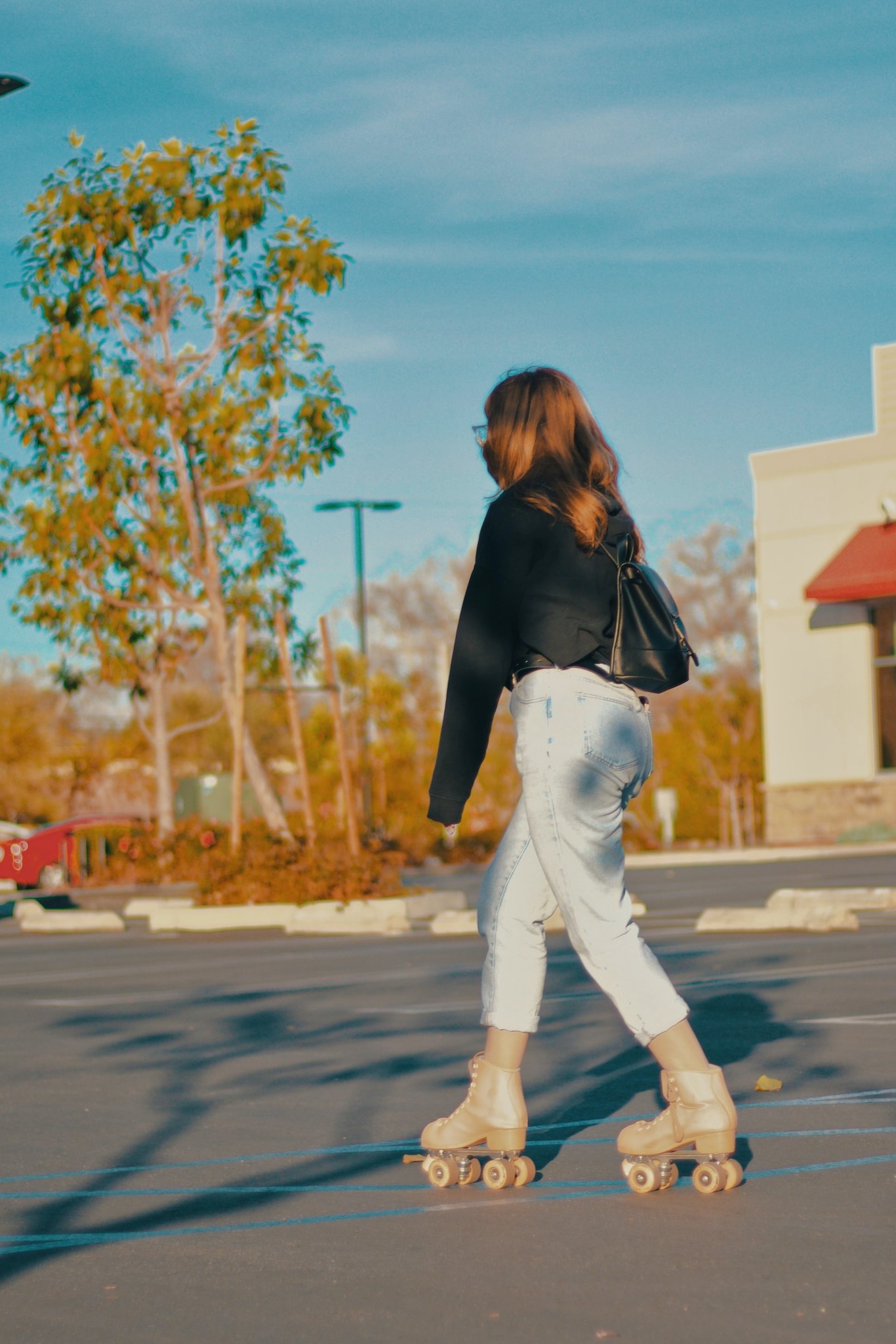 How do you know if a wheel is an outdoor wheel? By looking at the durometer, the hardness of a wheel. This is indicated with a number followed by the letter A, for instance: 80A. The lower the number, the softer the wheel; a high number means a harder wheel. 78A is standard and most common for outdoor wheels. Skaters use that for any type of outdoor skating. Wheels of 86A and above are generally not advised for longer trips outside, because your teeth might rattle out of your mouth!
With your derby skates, you can just slap on some proper outdoor wheels and you're done! Most recreational skates already start their life with outdoor wheels. But if skating outdoors feels rough and slow you might want to upgrade them to a better quality or bigger size. Because size does matter! A bigger wheel (65mm) will give you a higher top speed, so ideal for trail skating. A smaller wheel (57mm) is agile and perfect for small movements; dance, tricks, stuff like that. In between are the all-round outdoor wheels (62mm), you can use them for anything!
Other things to consider
So, it's really just about the wheels? Yes, but you might want to consider some other things too. It's nice to have a set of bearings you use for outdoors. That way, you don't have to switch your bearings from your indoor wheels to your outdoor wheels! We suggest the Wicked ABEC5 bearings, they're an affordable option with a smooth roll. Keep in mind that bearings might collect a lot of sand and dust outside, so remember to clean them once or twice a year.

With all this info, you're all set for some fun skating outside!